Arlandastad Group strives to always think sustainably and long-term, in all situations and contexts. We care about the environment that we operate in and for us it is a given that both our employees and partners feel that we take social responsibility and never accept deviations from our Code of Conduct or values.
In the spring of 2021, we conducted a holistic development project surrounding the company's commitments and responsibilities to promote long-term sustainability, which involved all company employees. From an environmental perspective, Arlandastad Group follows a long-term action plan to, among other things, improve water purification, recycle demolition materials in construction production, and measure air quality in all projects. The goal is for the use of all energy, water, and other natural resources to take place in an efficient, resource-saving and environmentally friendly manner, and for all electricity delivered to the properties to come from renewable sources - solar, wind and hydropower.
The sustainability work is based on the Brundtland Report (1987), where sustainability is defined from three perspectives: ecological sustainability, social sustainability, and economic sustainability. Furthermore, the sustainability work is based on the UN's 17 global goals, where Arlandastad Group has chosen to give special priority to four areas - Gender equality, Sustainable energy for all, Decent working conditions and economic growth, and Sustainable cities and communities. In all our work, we focus on safety and reduced climate impact.
Arlandastad Group is a community builder with a clear commitment to create a sustainable future. We want to contribute to making the world a better place - economically, socially and environmentally.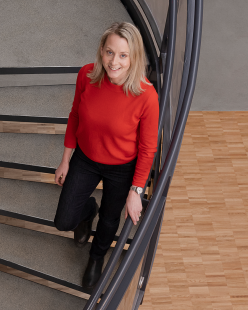 Focus on the present and future
Anna Stenströmer talks about how the company works now and in the future.